Biomarkers are critical to pharmaceutical and diagnostic companies developing novel therapies and diagnostics for oncology. Being able to discover and validate the best biomarkers forms the basis of any successful cancer diagnostic test.
Types of cancer diagnostic tests
• Companion diagnostics for new therapies – this type of diagnostic test is used for patient stratification in clinical trials. Successful companion diagnostics at this stage of drug development can increase the medical value of a therapy by selecting for responders or excluding patients at risk for severe side effects. Thus, they can facilitate regulatory approval, while keeping clinical trials smaller and cost effective.
• Companion diagnostics for existing drugs – this type of diagnostic test is developed after a cancer therapy has already been on the market in order to better select the right patients for the therapy. Successful companion diagnostics for existing drugs aim to reduce overall healthcare costs and the experience of unnecessary side effects by identifying patients that will benefit from treatment.
• Prognostic tests – this type of diagnostic test is used to more accurately identify the aggressiveness of a patient's cancer. Successful prognostic tests help distinguish patients who need to undergo aggressive cancer treatments from those patients who could benefit from active monitoring programs. These tests can save on overall healthcare costs and improve patient quality of life.
Tissue is vital to biomarker discovery for cancer diagnostics
With tissue being the gold standard in cancer diagnosis, it is easy to recognize that tissue also plays an important role in identifying unique and novel biomarkers. There is a wealth of relevant data available in tissue, such as morphological characteristics, neighborhood relationships, and density measurements. But with the majority of workflows for analyzing tissue being conducted by pathologists using visual observation of tissue slides, how can rare and powerful biomarkers be discovered and validated for statistically significant use in a cancer diagnostic test?
Improving tissue biomarker discovery

To overcome the challenges of visual observation to discover and validate statistically significant biomarkers, Definiens has developed a powerful technology that enables its users to automate and standardize the analysis of small to large cohorts of tissue slides. Definiens' technology performs accurate detection of all tissue structures and features in their spatial context, resulting in quantitative data sets that contain more relevant feature data than you would have obtained through a manual workflow. The resulting data sets are ready for data mining and correlation with other data sources, such as genomic profiles and patient outcomes, also known as Tissue Phenomics™ (see Figure 1).
Fig. 1 Tissue Phenomics™ Mines Multiple Data Sources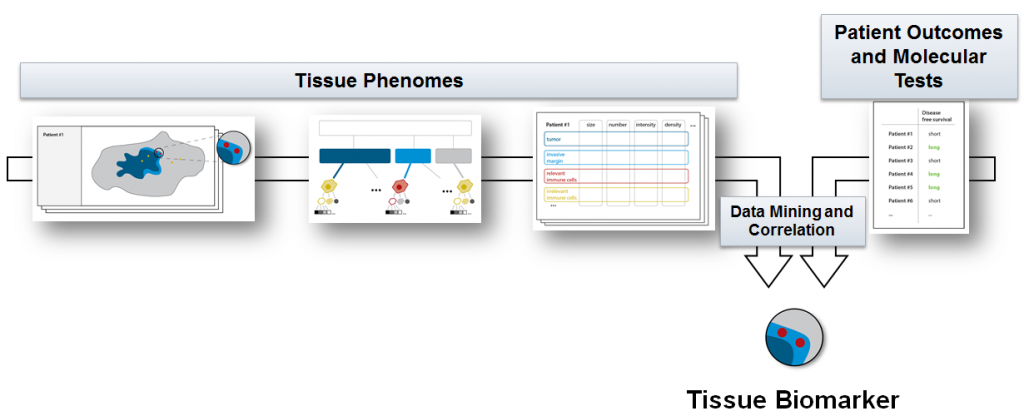 Definiens' Tissue Phenomics™ is the key to your next biomarker
By fully utilizing and correlating all available data sources in a cancer diagnostics development program, Tissue Phenomics™ efficiently identifies powerful biomarkers that may be missed by the human eye or genomic analysis alone. The end result is biomarkers that help develop companion diagnostics or prognostic tests with proven medical value, smoother regulatory approval, and quicker market adoption in the field of oncology.
Contact us to learn more about how Definiens can assist in your biomarker discovery programs with our Tissue Phenomics™ approach.