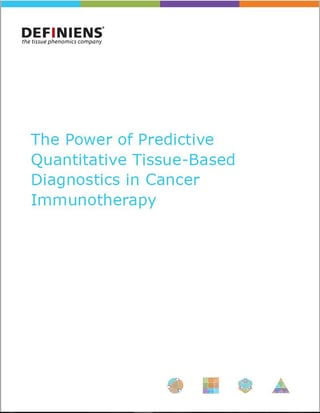 The American Society of Clinical Oncology named Immunotherapy 2.0 "Advance of the Year" at its 2017 Annual Meeting in Chicago, IL. This recognition comes after decades of incremental progress in our understanding of how the human immune system interacts with cancerous lesions. It also is the culmination of recent successes with checkpoint inhibitor therapy that promised dramatic changes in clinical practice and the approach to cancer treatment. What started with cutaneous melanoma in 2011 is now rapidly showing remarkable results also in other
cancer types. Just over the past year, the Food and Drug Administration (FDA) approved the use of checkpoint inhibitors in five additional cancer indications: lung, head and neck, bladder, kidney, and classical Hodgkin lymphoma.
Despite the recent advances, many patients will not benefit from immunotherapy because of their current immunoprofile, with some experiencing a rather short-lived treatment effect or even no change at all in the clinical course of their disease. At the same time, some treated patients are at risk of developing severe immune-related adverse events leading to potentially life-threatening situations.
The identification of patients that are likely to respond to immunotherapy while sparing others from its intolerable toxic effects is therefore imperative for oncologists to make evidence-based decisions and increase the predictive effectiveness of the chosen treatment regimen. Efforts have been focused on finding disease markers that help predict the likelihood of triggering a response to treatment. One of such markers that quickly gained interest due to its association with clinical outcome is "programmed cell death ligand-1" (PD-L1). The importance of PD-L1 testing of a patient's tumor sample was soon realized and led to the first FDA-approved pairing of a companion diagnostic with the therapeutic checkpoint inhibitor Keytruda® (pembrolizumab) for 2nd-line treatment of non-small cell lung cancer (NSCLC) in October 2015. Within just one week, the FDA approved a second option for this indication and treatment line, Opdivo® (nivolumab), yet this time without the restriction of mandatory PD-L1 testing. As a result, the necessity for PD-L1 testing came under intense scrutiny by oncologists, pathologists and patients alike.
The dispute about the usefulness of PD-L1 testing in lung cancer was settled in the fall of 2016 when the CheckMate-026 clinical trial of 1st-line treatment with Opdivo failed to improve progression-free survival (PFS) over physician's choice of chemotherapy. In contrast, Keytruda proved to be superior to chemotherapy in the 1st-line setting in both PFS and overall survival (OS) and gained FDA approval for the treatment of NSCLC patients that had been tested for PD-L1 with the companion diagnostic test for Keytruda. It was now evident that PD-L1 testing and selecting the right patients for immunotherapy was essential to predict clinical benefit and improve therapy success. Development programs for other checkpoint inhibitors also had to come to grips with this reality. In early 2017, the IMvigor211 clinical phase III trial of Tecentriq® (atezolizumab) in patients with urothelial carcinoma missed its primary endpoint of improving overall survival – again in a cohort that had not undergone rigorous testing to
include only patients with high PD-L1 expression levels in their tumors.
The discussion about the most suitable predictive biomarkers for immunotherapies has so far been dominated by PD-L1 and testing of its expression levels by immunohistochemistry (IHC) in tumor tissue and sometimes in conjunction with immune cells. However, PD-L1 as a robust biomarker has many limitations, most of all its poor Negative Predictive Value (NPV), i.e. patients tested negative for PD-L1 still benefit to some extent from checkpoint inhibitor therapy. And even in the population of patients with advanced NSCLC and very high PD-L1 expression levels (i. e. a PD-L1 tumor proportion score of 50% or greater), response rates to Keytruda hover only slightly above 52%.
Clearly PD-L1 alone does not represent all of the relevant predictive parameters within tumor tissue when it comes to immunotherapy. In the ongoing debate over which tumor and immune features need to be analyzed when selecting patients for checkpoint inhibitors, several suggestions have been made such as an interferon gamma (IFNγ) gene expression signature. Despite its association with overall survival, this gene signature serves as a surrogate marker for overall effector T-cell activation status in the tumor and has limited utility in capturing the complex tumor microenvironment. [...]