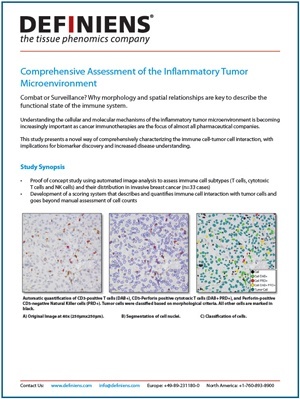 Combat or Surveillance? Why morphology and spatial relationships are key to describe the functional state of the immune system.
Understanding the cellular and molecular mechanisms of the inflammatory tumor microenvironment is becoming increasingly important as cancer immunotherapies are the focus of almost all pharmaceutical companies.
This study presents a novel way of comprehensively characterizing the immune cell-tumor cell interaction, with implications for biomarker discovery and increased disease understanding.
Download your copy of Definiens' case study Comprehensive Assessment of the Inflammatory Tumor Microenvironment to learn more.
Read More