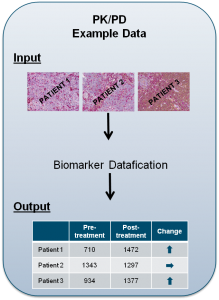 At the end of a phase I clinical development project researchers need to justify further investment to advance their selected therapy into a Phase II trial. Thus, they need to know what the body's physiology does to the drug and, most importantly, what the drug does to the body. In particular clinical researchers are looking for the following:
• Confirmation that the selected therapy reaches the tumor.
• Confirmation that the selected therapy affects the pathway as expected.
To get the relevant information needed for decision making, clinical researchers analyze tissue samples collected at several time points before and after dosing. With these tissue samples, the physiological response is identified by measuring biomarker expression at the various time points.
Read More